No one wants to face the prospect of a divorce, but unfortunately, sometimes it's necessary and the best resolution for all parties involved. However, some couples feel there is hope for their relationship if they can sit down and hash contentious issues out with the help of a third party. If it's not to resolve their differences and save their marriage, then at least they can come to an amicable agreement about property division, child custody, and other important matters.
Mediation is one such process that can help divorcing couples reach a mutual agreement about the terms of their divorce. It's the process of meeting with a neutral, third-party mediator who will help you and your spouse openly communicate and healthily negotiate the terms of your divorce. Common topics that are discussed during mediation include child custody, child support, spousal support, property division, and debt division. Communication styles and tactics are often the main focus of mediation, as both sides need to be able to openly, honestly, and accurately express their needs during this difficult time.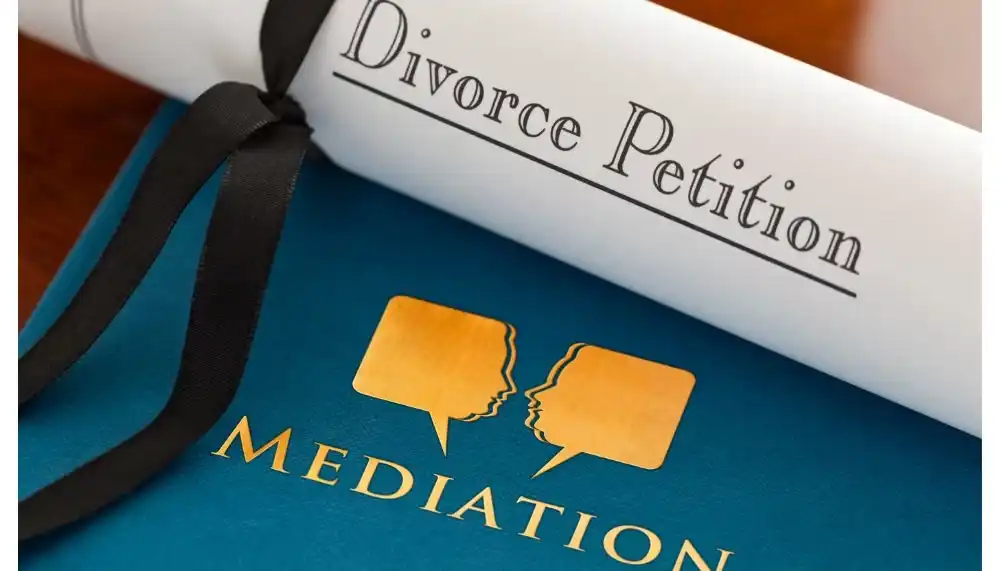 Is Mediation Successful?
Mediation can be successful, but it depends on the couple's willingness to work together and compromise. If both parties are committed to making mediation work, then there's a good chance it will succeed. However, mediation is likely to fail if one or both parties are unwilling to work together.
It's important to note that the process of mediation is not a magic solution to fix all of your problems. It's a tool that can help you and your spouse communicate better and hopefully reach a mutually agreeable resolution to your divorce. If you're willing to do the work, then mediation can be a successful way to end your marriage.
What Is the Process of Mediation?
The first step is to find a mediator. It's essential to choose someone neutral and impartial. They should have experience mediating divorces, and you both should feel comfortable communicating with them. Once you've found a mediator, you'll need to schedule a meeting time. The mediator will meet with you and your spouse together, but there may be times when it's necessary to meet with each of you separately.
During mediation, the mediator can help you and your spouse communicate with each other and discuss the various issues that need to be resolved. The mediator can also help you brainstorm possible solutions to your problems and devise creative ways to meet each other's needs. It's critical to remember that the mediator is not there to make decisions for you. They are there to help you and your spouse discuss together and reach your own conclusions.
The mediation process can be as long or as short as you and your spouse want it. It can take one or several meetings, depending on the complexity of your divorce and the issues that need to be resolved. Once you've reached an agreement, the mediator prepares a written document that both of you will need to sign. This document is then submitted to the court, and once it's approved, it becomes legal and binding.
What Are the Benefits of Mediation?
Mediation has many benefits, both for you and your spouse and your children. Mediation can help you and your spouse:
Save money on attorney's fees
Avoid the stress and conflict of a courtroom battle
Protect your children from the emotional trauma of a divorce
Communicate better with each other
Resolve your differences in a more amicable way
Come to a mutually agreeable resolution
Mediation is not suitable for every couple, but it can be a helpful tool for many divorcing couples. If you're willing to work together and communicate openly, then mediation may be a successful way to end your marriage.
Tips to Make Mediation Successful
Here are some best practice tips to help you make mediation work for you:
Be honest with each other. You'll need to communicate openly and honestly about your needs and wants to come to a resolution that works for both of you. Withholding information or trying to manipulate the other person can be harmful, and it does not help anyone. It could make mediation more difficult and lead to a less successful outcome.
Be willing to compromise. It's essential to be flexible and willing to give and take to reach an agreement that works for both of you. A successful mediated deal is fair to both parties and considers the needs of both parties. You will likely both walk away a little bit unhappy, but as long as you both feel that you got something out of the agreement, it was successful.
Be patient. Mediation can be a slow process, and it may take several meetings to reach an agreement. It's crucial to be patient and not rush the process. The goal is to come to a resolution that you're both happy with. It's not to hurry through the process and end up with an agreement that neither of you likes.
Hire a qualified mediator. Choosing an experienced and qualified mediator to help you resolve your divorce is important. The best mediators are neutral and impartial, have experience mediating divorces, and are someone you both feel comfortable communicating with. Once you've found a mediator you're both satisfied with, schedule a time to meet and discuss your divorce.
Work together. Mediation will only be as successful as the effort you are both willing to put into reaching an agreement. While the mediator can help facilitate communication and offer suggestions, it's up to you and your spouse to agree. If you're both unwilling to work together, then mediation will likely not be successful.
Make sure you're both on the same page. Before beginning mediation, it's essential to make sure you and your spouse are both on the same page about the process. You'll need to discuss what mediation is, how it works, and what you both hope to achieve through the process. This will ensure you both have the same expectations for the process and the outcome.
Divorce Mediation Attorneys You Can Trust
Contact the attorneys at Drury Pullen, A Professional Law Corporation to learn more about mediation and find out if it's right for you.